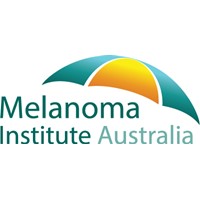 Charity Overview
Melanoma Institute Australia (MIA) is a non-profit organisation dedicated to preventing and curing melanoma through world-class research, treatment and education programmes that are making a difference to the lives of patients today. MIA is a national affiliated network of melanoma researchers and clinicians, based in Sydney at the Poche Centre – the world's largest melanoma research and treatment facility. It's from here that the charity's specialists pioneer new research, conduct clinical trials, develop innovative treatments and promote awareness of the condition. This is also where MIA clinics treat 1,500 melanoma patients each year.
All research efforts at MIA are underpinned by three incredible research assets. Firstly, the Biobank to which patients donate tissue and blood samples. It is the largest in the world with nearly 10,000 patients participating. Secondly, it's Research Database which contains more than 41,000 patient records. Both the samples from the Biobank and the data from the Database fuel all types of research in Australia and internationally. Thirdly, MIA's Clinical Trials Unit conducts some of the most innovative trials in the world, a number of which are unique. At any time, the charity has around 30 trials on offer for patients.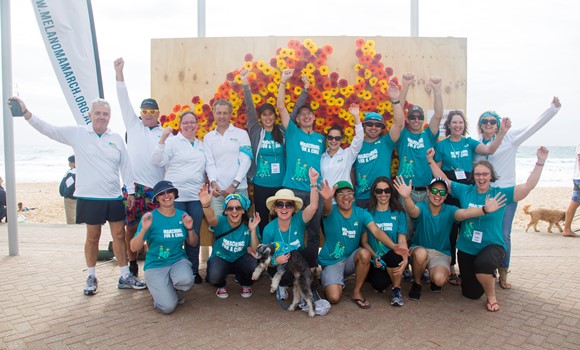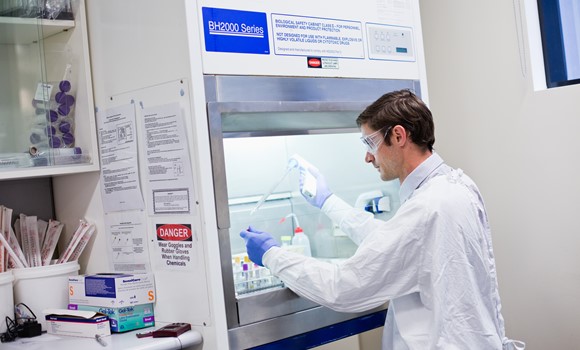 Project Summary
A donation from ICAP Charity Day Sydney in 2015 supported the NeoTrio Trial to prevent melanoma advancing. The standard treatment for patients who develop stage III melanoma (melanoma which has travelled to lymph nodes) is to have surgery to remove the affected and surrounding lymph nodes, known as a complete lymph node dissection. Sadly, even after this procedure there is a high risk of the melanoma returning and advancing to stage IV melanoma, meaning it has spread around the body and become life threatening. New drugs have been trialled and shown to be effective to treat stage IV melanoma, but MIA want to stop it advancing to this point in the first place.
My heroes are MIA's doctors, nurses and researchers who are devoting their lives to treating and curing melanoma.
Grant Lawrence, Melanoma Institute Australia Patient
The NeoTrio Trial supported by ICAP is an important clinical study that will test whether immunotherapy treatments currently used to treat stage IV patients could in fact prevent sufferers from developing advanced melanoma altogether. As part of the trial, patients with stage III melanoma received either immunotherapy and/or targeted therapy before and after their complete lymph node dissection, to see if it will prevent stage IV melanoma from developing. The potential results are revolutionary.
Thanks to the generosity of groups like ICAP, Melanoma Institute Australia can pioneer advances in melanoma research and treatment that are making a difference to the lives of patients today. With clinical trials, like the NeoTrial Trial, we are working towards a future where there is no more death from melanoma.
Helen Roche, Community Fundraising Manager, Melanoma Institute Australia
28-year-old Grant Lawrence's (pictured above with his mum and dad) life changed dramatically in August 2014 when he was diagnosed with melanoma. Grant's disease was at a stage that required extensive surgery, which he underwent at MIA in conjunction with radiation therapy. Despite this intervention unfortunately the melanoma spread and he commenced immunotherapy soon after. Grant's parents, Carolyn and Darryl, have been by his side throughout his diagnosis and treatment and they now accompany him on the 14 hour round road trip from their home in Nambucca Heads for his treatment at MIA every three weeks. The family's commitment is paying off – after many months of therapy there is good news. Grant's scans are showing the therapy has achieved remarkable results, "I am feeling really well. It was the best news that the treatment is doing what it is supposed to," Grant said.
Five years ago, there were no drugs for melanoma – you either caught it early and had surgery or you died. A range of therapies which either target the immune system or specific genes involved in melanoma are now available at MIA through the charity's trials programme. These therapies have already increased the one-year survival rate for people with advanced melanoma, from 25% to 75%. The trial supported by ICAP is truly innovative and is making a difference to the lives of patients today, like Grant.
Watch the Melanoma Institute Australia Patient stories on YouTube here